What are the Benefits of Buying an All-Wheel-Drive Automobile from Smolich Nissan in Bend, OR?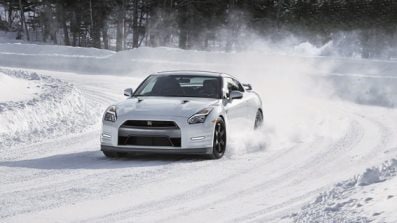 Many drivers in the greater Redmond, Madras, Prineville, and La Pine, OR area would not even consider buying a car that was not equipped with all-wheel drive. But do you know exactly what qualifies a vehicle as all-wheel-drive, or what the actual benefits to the system can be? Smolich Nissan is here to shed some light on the topic of all-wheel-drive automobiles and their many advantages.
All-wheel-drive is a phrase that gets tossed around a lot in the automotive industry, but there are a surprising number of drivers who don't actually understand what AWD entails; allow us to clarify. A vehicle with all-wheel drive is one with a drivetrain that employs a front, rear, and center differential to provide power to all four wheels of a vehicle, whereas a car with two-wheel drive uses ones of two setups--front- or rear-wheel drive--in which power is provided to two of the four wheels.
Naturally, cars equipped with AWD tend to handle better than their front- or rear-wheel drive counterparts, but the advantages don't end there. Bend, OR area drivers prefer the better acceleration provided to them in an AWD vehicle such as the Nissan GT-R, the Nissan Juke, the Murano, the Rogue, or even the Rogue Select.

An AWD car can also help with traction and towing, particularly in inclement weather or road conditions--think off-roading or sandy areas. Finally, should you opt for an all-wheel-drive automobile, your car's resale value will very likely go up, as people are willing to pay a premium for these capably equipped automobiles.